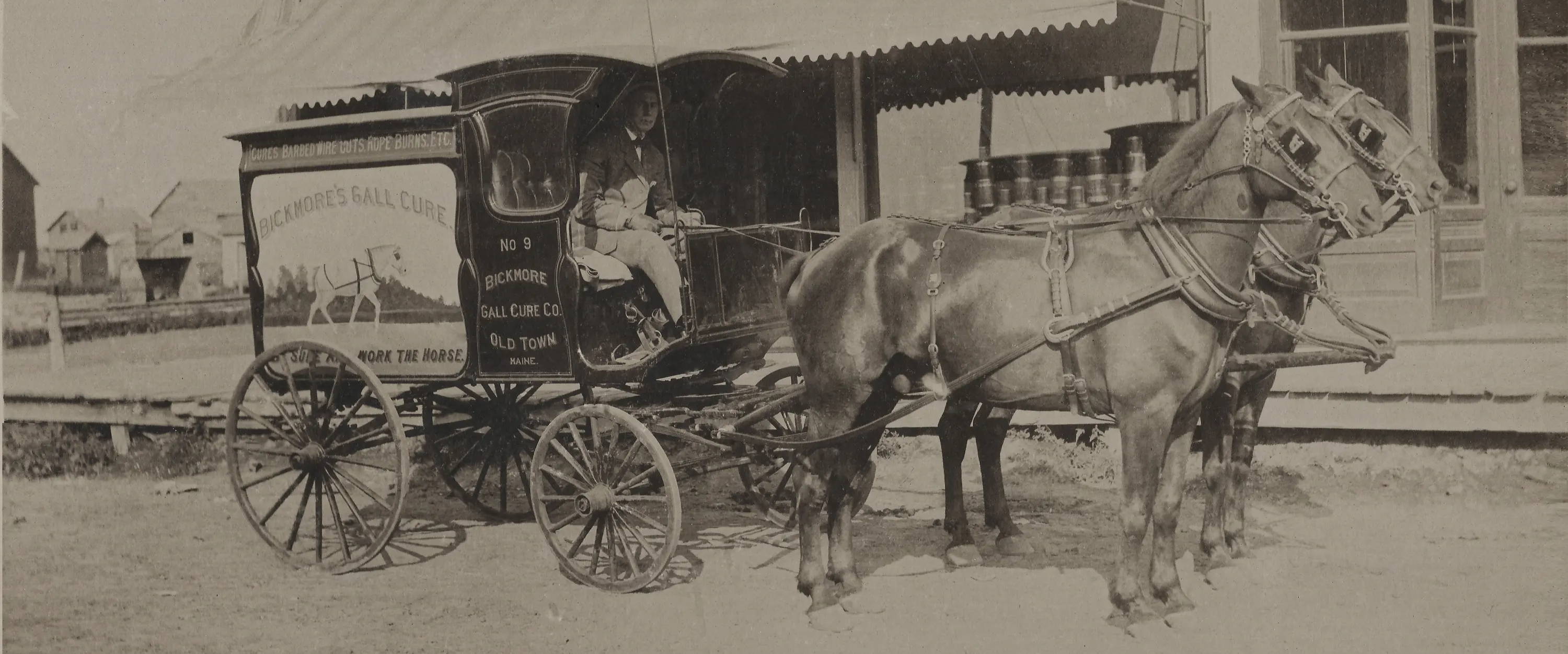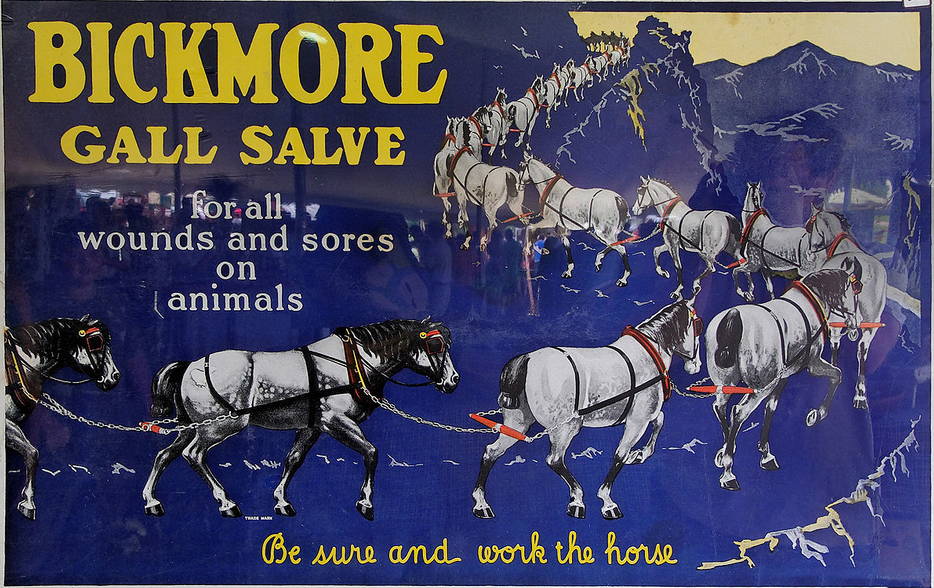 The Beginning
The Bickmore Company was born in Old Town, Maine in 1882 over a kitchen stove belonging to Mr. Abiel Parker Bickmore. Mr. Bickmore had noticed that the Maine logging industry was losing valuable production time due to sores suffered by draft horses. The harnesses used on the horses often caused irritation, resulting in sores known as galls. A severe case of gall would render a horse temporarily unworkable, affecting business productivity. Attempting to find a remedy, Mr. Bickmore and his wife formulated an ointment in a two-quart dish in their kitchen that would later become known as Bickmore's Gall Cure. This ointment proved effective in quickly healing any wounds, cuts, or sores suffered by horses. It was well received in the logging community and quickly grew in popularity, marking the start of the long legacy of the Bickmore brand.
The Horse
In 1892, The Bickmore Company was incorporated with Abiel Parker Bickmore, Herbert Gray, George A. Gray, and George Richardson as the stockholders. Mr. Bickmore, now officially the "Business Manager", chose a new slogan and trademark for the company. The slogan "Be Sure and Work the Horse" was accompanied by the image of a dapple gray workhorse. This horse was well-known around town as "Doctor" or "Old Doc", a workhorse at the Penobscot Chemical Fiber Company, used to draw coal from the pit up into the boiler room. Doctor was recognized as one of the strongest and most intelligent horses in Old Town, as told by a 1906 Bickmore publication, "The numerous requirements of a large manufacturing business and training in good hands speedily brought out his many good qualities, so that when any special hard task was to be accomplished no other horse but Doctor would answer." Doctor's image can still be found on Bickmore's products today. His image is also found above the entrance of Bickmore Manor, which originally served as Bickmore's office and manufacturing facility. The manor remains located on South Main Street in Old Town today.
The Expansion
Soon after the company was incorporated, Bickmore began to offer a wide range of products across the country. The company manufactured a veterinary two-purpose powder known as Bickmore XYZ Ointment, Bickmore Mortician's Powder, and Bickmore Shaving Cream. These products rapidly gained popularity, due to both their effectiveness and Bickmore's active advertising efforts. Using two teams of horses drawing well decorated wagons, Bickmore advertised these products throughout the country. Finding success in these campaigns, Bickmore was able to increase the number of advertising teams to nine by 1910. During this time, Bickmore also began to find interest in their products outside of the country's borders. Between 1898 and 1902 Bickmore's brand expanded sales into Canada, Great Britain, Australia, Germany, Austria, Holland and Belgium. Eventually The Bickmore Company established international offices in Canada, Mexico, Great Britain, Germany, France, Australia, New Zealand, South Africa, India, and Argentina, as well as additional manufacturing facilities in Canada and France.
The Boer War
This international expansion of The Bickmore Company opened the door for many new applications of Bickmore's products, most notably the Gall Cure. In 1889, the Boer War between the British and the Boers of South Africa began. Anticipating the harsh conditions that the British horses would be subjected to during the war, Bickmore reached out to the British War Office and offered to supply their troops with Bickmore's Gall Cure. After receiving two letters of refusal from the British War Office, Bickmore's headquarters contacted the Bickmore London office, instructing them to provide free samples to British troops being dispatched to South Africa. As more samples were given out, Bickmore Gall Cure won favor with the British troops, eventually leading to large orders being placed by the British War Office. Despite their initial hesitance, the British were finally won over by Bickmore's battle tested Gall Cure.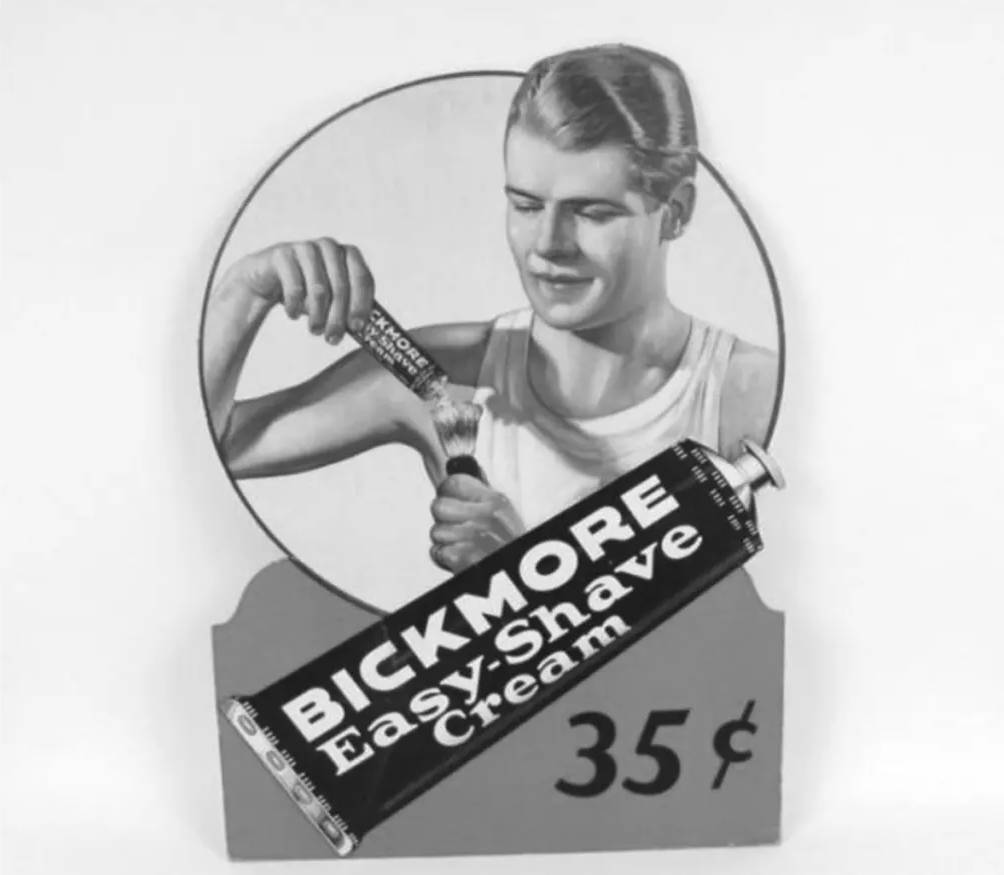 The President
During the early 1900s The Bickmore Company began to produce more household products including Bickmore Easy-Shave Cream, Toothpaste, Cold Cream, Disappearing Cream, Pom-Gloss, and XYZ Skin Ointment. These products were also well received and quickly grew in popularity both domestically and internationally. In the 1930s, The Bickmore Company began an advertising campaign for their Bickmore Easy-Shave Cream. Consistent with their past success in advertising, Bickmore was able to find a young, promising actor to serve as the face for their shaving cream. This young actor went on to become a household name, first for his acting and second for being elected to serve as the 40th President of the United States. Antique Bickmore signs can still be found today showing a young Ronald Reagan applying Bickmore Easy-Shave Cream.