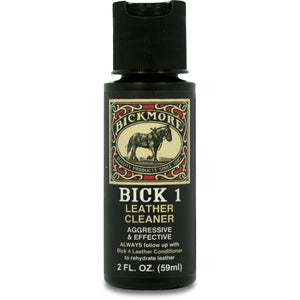 Shop Bickmore
Bick 1 Leather Cleaner (2oz)
Regular price
$0.00
Unit price
per
PREMIUM LEATHER CLEANER SINCE 1882: Bickmore Bick 1 Leather Cleaner is an aggressive leather cleaner that is formulated to quickly and easily remove surface dirt, grime, sweat, and salt stains from smooth finished leathers.
GETS THE TOUGH STAINS OUT EVERY TIME: The best leather cleaner on the market today. Bick 1 effortlessly cleans hardworking leathers like equestrian leather products that are known for their hard to remove stains and blemishes.
SAFE FOR PROPERLY TANNED LEATHERS: Including but not limited to surfaces such as shoes, boots, equestrian equipment, exotics, and many other leather products. Our time tested formula is proven to ensure a deep and effective cleaning.
FOLLOW UP BICK 1 WITH BICK 4: After cleaning your leather goods with Bick 1 make sure to follow up the process with our popular Bick 4 Leather Conditioner. This two step process will make your leather goods look great and last as long as possible.
MADE IN THE USA: Bickmore is proud to produce all Bickmore Bick 1 Leather Cleaner in the United States of America.
Directions: Always check for colorfastness in a hidden area before using. Apply a small amount to a slightly damp textured cloth. Rub gently in a circular motion. Allow to dry. Repeat if necessary. For best results, ALWAYS follow up with Bick 4 Leather Conditioner to rehydrate leather.
---