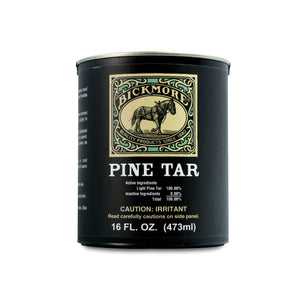 Shop Bickmore
Pine Tar - 100% Pure
Regular price
$0.00
Unit price
per
EQUINE RELIEF: Soothing treatment for quarter cracks, split hooves, hard frogs and many other types of hoof problems.
HELP RETAIN HOOF MOISTURE: Bickmore Pine Tar aids in making the hoof elastic, flexible, and promotes the development of new hoof growth.
COMBATS FUNGICIDAL & BACTERIAL INFECTIONS: Pine tar is a natural topical antiseptic and helps in the prevention and treatment of nasty equine infections.
WIDE RANGE OF USES: Perfect product for outdoor wood treatment and varnishing, rope sealant, baseball bats, and many other items.
MADE IN THE USA: Bickmore is proud to make all Bickmore Pine Tar in the United States of America.
Directions: Wash and dry hoof. Apply below coronet band of hoof and hoof wall. As a hoof pack, apply to bottom of hoof prior to shoeing. 
NOT FOR HUMAN USE! FOR USE ON NON-FOOD ANIMALS ONLY!
---